Mara Sangoi
Context
Mara Sangoi teaches Italian to adults. She lives in the German-speaking region of Switzerland and had her website in both English and German. However, she had started getting visitors from Spain who were interested in her Italian lessons and courses, and as a result, she wanted to add a Spanish translation to the website.
She contacted me because she wanted someone to configure the Spanish translation and to revise the translated texts.
Proposed Solution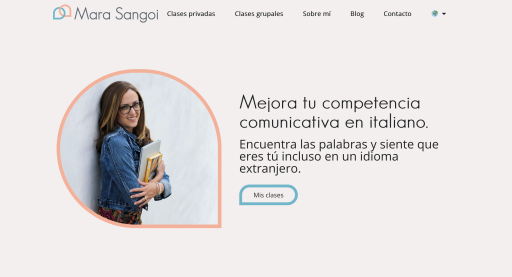 Although what Mara required was simple, there was an important decision to make. Her website used a free version of a plugin that only allowed two languages (original + 1 translation). As a result, she had to decide whether she wanted to pay for the premium version of the plugin, or change to a free plugin (which was more expensive upfront).
She finally decided to keep things as they were and pay for the premium version of the plugin.
Moreover, I also noticed that I didn't have access to any backups. As a result, I suggested to her the option of creating regular backups, which was also useful before adding the third language to the website.
After creating a backup of the website, I proceeded to install the premium plugin. Once she handed me the texts, I revised them, made some small suggestions, and added the Spanish translation to the website.
A small challenge that I faced and that I didn't expect was fitting the language switcher in the menu. The menu was tight and grouping the different languages under a tag such as "Lang" or "Language" was not possible, because the menu split in two lines. In the end, I decided to use a globe icon instead. If you hover over it, a dropdown menu appears with the different languages.
Results
The main benefits are the following:
Recurring backups
Regular backups have been set up. If anything goes wrong, Mara will have several backup copies at her disposal.
Website in Spanish
The website is available in Spanish, which targets her Spanish-speaking (future) clients.